Basement Conversions Portsmouth – Basement conversion within your property can ensure that the additional useable space created meets 'Habitable Living Standards' and therefore a practical and useful space.
Limewood builders can provide specialist designers and engineers to ascertain the most suitable design and methods of construction for your basement space. In turn Limewood Builders can provide specialist operatives to create that space to all legislative standards.
By utilising current best practice and modern methods of construction Limewood Builders can provide a cost effective approach to the whole process and ensure that as our client you receive the best value for money as well as a cost certainty Limewood builders can also ensure a time certainty in undertaking the construction so that you know not just how much it will cost you but also when it will be completed.
Our completed structures will meet all current standards and legislation and enable you to optimise the value of your home through sustainable and long lasting techniques.
Limewood Builders offer a complete package, 'Design & Build', So that we will identify key design requirements for the existing structure and prepare a fully compliant design along with a programme of works and then ensure that work is professionally managed through to completion.
Limewood Builders are happy to provide a guarantee of their work for an agreed period this also includes a responsive care service to you and that covers your home after the work has been completed.
All basement conversions Portsmouth are undertaken by fully qualified and competent specialists and all work is overseen by fully qualified project managers/engineers. Limewood Builders are committed to providing a qualitative and all encompassing service. This includes the inclusion of all modern construction techniques and the ultilisation of superior damp inhibiting materials and methods. In doing so we can ensure the created spaces can meet all building regulation requirements of a habitable room within the property this includes ventilation and heating plus provision where practicable of natural light. Generally speaking all work can avoid using the accesses of the main part of the property and therefore any disturbance or mess is kept to a minimum not just for yourselves as the home owner but also that of your neighbours.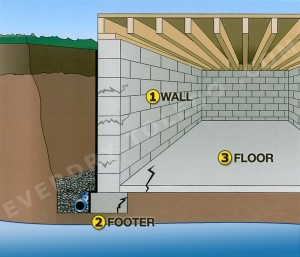 Part of the initial process includes:
Condition and Structural survey as required
Consideration of impacts to the proposed design and its costs
Consideration of adjoining properties including any matters arising from 'The Party Wall Act'
Planning permissions and Building control requirements
Programme creation and the practicality in terms of the proposed design that it can be met.
Risk assessment and Compliance with all Safety matters arising from the proposed works.
Contract preparation and administration
All costings including elemental breakdowns
For professional and recommended Builders call Limewood Builders on :